"It is difficult to edit one's life, to sift through the myriad events, feelings, and friendships that make a person who he is, and then to choose what is of interest to a reader. Perhaps I can summarize my first twenty-one years by saying...
I got C's in art."
-Nolan Haan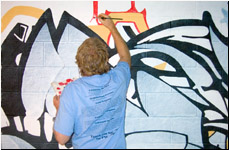 Nolans' Primary Site Is Under Construction - Stay Tuned!
P.S. I have a challenge that I've not been able to overcome. Perhaps you will have a idea.
When people look at my work, they think I painted on a real wall, photographed it, and posted it. I haven't been able to convey that the entire image is a painting in acrylic on silk.
I have tried showing a picture of a painting draped, and another one of me painting, but most people still don't get it.
Any suggestions from you would be greatly appreciated.